Bathroom is one of the most important element of a house, which helps in cleaning and refreshing ourselves. But if heights of fittings are not appropriate, it will lead to discomfort and trouble in using your bathroom.
So in order to properly use our bathroom, standard height of plumbing fixtures should be known while planing and constructing your bathroom. Read this detailed information on bathroom and toilet dimensions and their fittings.
Bathroom Size
Before going in detail about bathroom fitting heights, let us first of all have an idea about average bathroom size and its minimum dimensions.
Minimum bathroom size – 20 sqft
Average bathroom size – 30 sqft
Minimum toilet size – 16 ft2
Average toilet size – 20 ft2
Powder Room Size: Powder room also known as guest bathroom or half bathroom is a one in which there is a commode and a sink. Minimum size of powder room is 16 sqft (4′ X 4′ feet).
When bathroom and toilet (W.C., Sink) is combined then the standard size is 35 to 40 sqft(8′ X 5′ feet).
For a full sized luxurious bathroom at least 50 square foot of area is required. So that it can house bathtub apart from sink shower and commode.
No matter how big or small your bathroom is, you will find all small bathroom dimensions and heights in this post.
Height of bathroom ceiling
Generally speaking, common height of houses are 9 to 10 feet, but bathroom height is lower then this due to overhead water tank. Normally bathroom over head water tank requires 2 feet to 2.5 feet space, thus the bathroom ceiling is reduced to 7 feet in such conditions.
But under any circumstances, the minimum ceiling height of 7 ft is required in bathroom.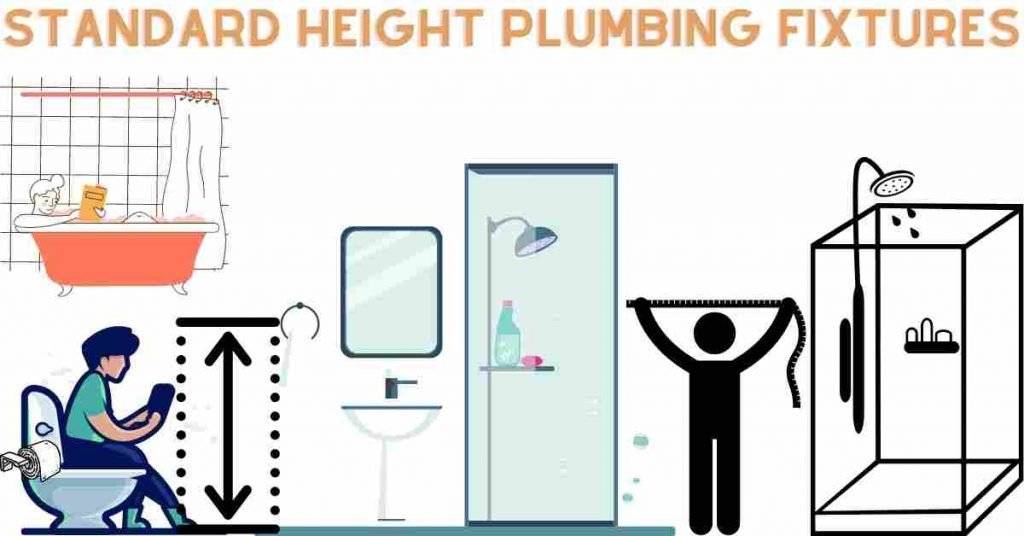 Standard Bathroom Fitting Heights
For a quick reference we have given below heights of bathroom fixtures in a tabulated format. Detailed information about all bathroom fittings are given below this table.
| Sr. No. | Bathroom Fixtures | Standard height above finished floor (in Feet) | Standard height above finished floor (in inches) | Standard height above finished floor (in Meter) |
| --- | --- | --- | --- | --- |
| 1 | Bathroom Shower Head | 6.5 ft | 78" | 1.98 m |
| 2 | Bathroom Mixer/Divertor | 3 ft | 36" | 0.91 m |
| 3 | Bathroom Spout | 2.5 ft | 30" | 0.76 m |
| 4 | Bathroom Main Stop Cock | 4.3 ft | 52" | 1.30 m |
| 5 | Bathroom Vanity | 3 ft | 36" | 0.91 m |
| 6 | Wash Basin Height | 2.67 ft | 32" | 0.81 m |
| 7 | Bottle Trap For Wash Basin | 1.5 ft | 18" | 0.46 m |
| 8 | Angle Cock For Wash Basin | 1.5 ft | 18" | 0.46 m |
| 9 | Bathroom Mirror | 4 ft | 48" | 1.22 m |
| 10 | Soap Dispenser | 3.5 ft | 42" | 1.07 m |
| 11 | Soap Dish | 4 ft | 48" | 1.22 m |
| 12 | Bathroom Cabinet | 4.5 ft | 54" | 1.37 m |
| 13 | Bathroom Shelves | 4 ft | 48" | 1.22 m |
| 14 | Bathroom Niches | 4 ft | 48" | 1.22 m |
| 15 | Towel Rail | 5 ft | 60" | 1.52 m |
| 16 | Towel Ring | 4 ft | 48" | 1.22 m |
| 17 | European W.C. | 1.42 ft | 17" | 0.43 m |
| 18 | Toilet Paper Holder | 2.17 ft | 26" | 0.66 m |
| 19 | Health Faucet/ Jet Spray | 1.5 ft | 18" | 0.46 m |
| 20 | Bib Tap For Toilet | 1.5 ft | 18" | 0.46 m |
| 21 | Flush Cistern | 3 ft | 36" | 0.91 m |
| 22 | Angle Cock For Flush Tank | 2 ft | 24" | 0.61 m |
| 23 | Flush Valve For WC | 3.33 ft | 40" | 1.00 m |
| 24 | Urinal Height | 2 ft | 24" | 0.61 m |
| 25 | Lighting Fixture | 8 ft | 96" | 2.44 m |
| 26 | Bathroom Exhaust Fan | 6 ft | 72" | 1.83 m |
Height Of Bathroom Fittings
Below you will find complete detail of all bathroom fittings and their standard heights and permissible heights that are used in building industry.
Bathroom Showerheads
Bathroom shower height should be at a suitable height, so that the user can stand beneath it while taking shower. Average height of human being is 5.5 ft to 6 ft, thus 6.5 ft is taken as standard height of shower head from finished flooring.
Even though the recommended height of shower is 6.5 ft but it can be changed according to the height of the user and their convenience. If over head water tank is provided in bathroom, then the height of shower need to be compromised. As a thumb of rule it height can vary from 6 feet to 7 feet.
Bathroom Mixer/ Divertor Height
Bathroom mixer or diverter should be placed at height that is easily accessible while standing. The standard height of mixer or divertor is 3 feet.
According to ease of access of the user this height can further vary from 33″ to 40″.
Bathroom Divertor spout Height
Spout is the tap through which water comes out when divertor is installed in your bathroom. The recommended height for spout is 2 feet above the floor level. But again this height can be adjusted according to the convenience of the user.
Bathroom Main Stop Cock Height
Concealed stop cock is provided to control the flow of water into our houses. We can close or open the stop cock to control the flow of water.
The general height of concealed main stop cock is 52 inches. But in some cases it can vary from 4 feet to 6 feet depending upon aesthetics and accessibility.
Inlet and outlet concealed stop cock are also provided if over head water tank used to store water. Their height is same as that of the main stop cock that is 4 foot to 6 foot.
Bathroom Vanity unit Height
Standard bathroom vanity height is considered to be suitable at 3 feet from the floor finish level. Depending upon the user height and age this can be reduced or increased.
If bathroom is for kid then the vanity height should not be lowered according to their height. Because sooner or later kids will grow in height and rework of vanity unit will be needed. But to counter the accessibility of vanity unit to kids one should use table for kids.
Shower Box or Shower Enclosure
Shower enclousure or shower cubicles is enclosed with glass and has showerhead and body-jet nozzles that sprays water for taking bath.
Shower box can be square shape or rectangular in shape according to the choice of the home owner. Showerhead should be installed at a height of 6.5 feet. Hot and cold water mixer should be given at a height of 3.5 feet.
Minimum square shower box – 3 ft X 3 ft (9 sqft)
Minimum rectangular shower box – 3 ft X 4 ft (12 sqft)
Standard sizes of shower cubicles used are 2.67 ft X 4 ft, 3'X3′, 3'X5′ and many more.
Bathtub Dimensions
Tub in bathroom comes in various designs, models, shape and sizes. Choose the model or bathtub that attracts you. Standard sizes of bathtub are 5'X2.67′, 5.5'X2.67′, 6'X3′.
Plumbing fittings is done according to the bathtub. Standard height of plumbing fixtures should be 33 inches from the flooring of bathroom, so that while taking bath user can access water controls.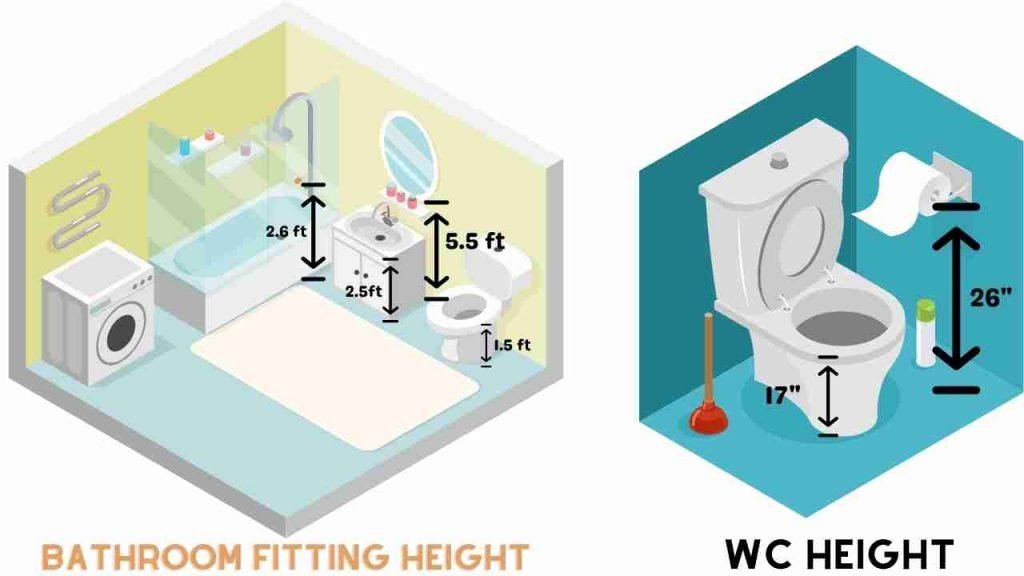 Bathroom Wash Basin Height
Depending upon the type of wash basin and user preference height of wash basin varies from 30 inches to 36 inches. But recommended height of wash basin is considered to be 32 inches.
Standard wash basin height from floor in feet is 2.5 feet. Other measure of washbasin dimension are given below.
Front top edge of wash basin should be 800 mm
Center to center spacing of wash basin – 2.5 feet
Distance between wash basin and adjacent wall – 1.5 feet
Distance between edge of washbasin and center of WC – 1.33 feet
Distance between front edge of wash basin and opposite wall – 3 feet
Wash basin can be in various types like pedestal wash basin or counter wash basin. There are many more washbasin type which we will cover in detail in some other post.
The height of sink of wash basin above floor level is kept at 2.5 feet to 3 feet depending upon the type of wash basin sink like pedestal, under-mount sink or over the counter sink.
Angle Cock for Wash Basin
Pillar cock is used for wash basin water inlet, which is deck mounted on the counter platform or pedestal washbasin. But below the counter there is an angle cock that control the flow of water through connection pipe into the pillar cock.
Wash basin angle cock is provided 18 inches above the floor finish level.
Bottle Trap For Wash Basin
Waste water from the wash basin is discharge into the drainage pipe through waste coupling and finally through the bottle trap. Bottle trap is provided at a height of 18″ or 1.5 feet from floor level.
In some cases bottle trap is not used and flexible connecting pipe is connected to the waste coupling of wash basin that lead the waste water into nahani trap.
Bathroom Geyser height
Geyser is a must for every bathroom especially for colder regions. To have a proper continuous supply of water, geyser should be placed at a proper height.
Standard height of plumbing fixtures of geyser is 5 feet to 6 feet, depending upon the geyser type. Standard recommended height of geyser is 6 feet.
Bathroom Accessories And Their Heights
Standard height for bathroom accessories like soap dispenser, mirror, shelves, and bathroom cabinet are shown below.
Standard Height of Bathroom Mirror
Bathroom mirror help us to get refresh and groom ourselves in our bathroom. Truly speaking the height of mirror is different for different individual, as a thumb rule the bottom of the mirror should cover your shoulder.
Typically washroom mirror are installed at a height of above 4 feet from floor level. It can be as high as 5.5 feet depending upon the individual preferences.
Soap Dispenser Height
After using water closet or urinating we need to wash our hands. Thus Soap Dispenser comes handy, and it should be so placed that it can easily be used while washing our hands.
Standard height of soap dispenser varies from 40 inch to 48 inches. Recommended height of soap dispenser is 42 inches.
Soap Dish height
If soap dispenser is not provided then it become necessary to provide soap dish. Soap dish should be placed away from the shower area so that unnecessary water is not collected into the soap dish.
Standard height of soap dish is between 44 inches to 54 inches. Mostly soap dish is provided at a height of 4 feet.
Bathroom Cabinet Size
Bathroom cabinet are handy for storing day to day bathroom stuff. The height of cabinet should be such that anyone can access it easily without using table. Our hand should reach the top of cabinet without any help.
Standard height of bathroom cabinet is 54 inches. There should be minimum 18 inches gap in between basin counter and cabinet. As we know that wash basin top is 36 inch, thus placing cabinet at 54 inches give a gap of 1.5 feet between them.
Bathroom Shelves Height
There is no hard and fast rule for bathroom shelf height. Bathroom shelves can be installed as per our will and our needs. Typically it is installed at a height of 3 to 4 feet.
Bathroom Niches height
Recessed bathroom niches are in demand and are used more and more in modern bathroom interior decoration. One of the most important factor because of its popularity is that it doesn't require any space and are installed recessed inside the wall.
There is not standard height for bathroom niche but it is generally installed at a height of 4 feet from the finished floor level.
Towel Ring
Towel ring if provided in the bathroom is generally provided at a height of 48 inches. Although towel ring can be hooked at upto 5 feet depending upon the user satisfaction.
Towel Rail
Towel rail is generally provided at a higher height that is around 5 feet, so that showering and bathing don't make it wet. suitable distance should be provided between shower and towel rails. Towel rails comes in 1.5 to 2 feet in length.
Recommended for you:
Standard Toilet Fitting Heights
Water closet and its necessary fittings like toilet paper holder and health faucet if not provided at appropriate height would make it difficult for the user to use them. Thus important sanitary ware and it standard height of plumbing fixtures are mentioned below for reference.
European W.C. Height
Indian water closet also referred to as Orissa WC are installed on floor, so no issue of its height. But when it comes to Wall mounted European water closet then one should be careful with its height.
Standard height of wall hang WC is 17 inches above the flooring level. This height should be kept with precision and accuracy so that one can easily sit on it.
Even though WC height is recommended to be 1.42 ft, user can have slight change in this value if they are uncomfortable due to their height or any other issue. Drainage pipe is installed at suitable height water closet dimensions.
For installing water closet on your wall it should have a width of 40 inches but if there is lack of space at least 30 inches of clear width should be there. 30 inches width allows the user to sit comfortably and use WC with ease.
Whenever WC is installed give ample free space in front of it, Minimum recommended clearance is 30 inches.
Important measurement that should be kept in mind before proceeding with work.
Distance of center of WC and adjacent wall – 1.5 feet
Distance of front edge of WC and opposite wall – 2.5 feet
Distance of center of WC and side edge of washbasin – 1.33 feet
Distance of front edge of WC and opposite wash basin – 2.5 feet
Toilet Paper Holder
Standard height of toilet paper holder is 8 to 12 inches above the rim of the water closet or W.C., so that user can easily use them. When measured from the flooring of the bathroom standard height of toilet paper holder is 26 inches.
Health Faucet or Jet Spray
Jet spray that is a common name for health faucet is important part of any bathroom. Some people are not satisfied with toilet paper and for better cleanliness they prefer water that is made possible by health faucet.
Health faucet or jet spray should be kept at standard height of 18 inches above the floor level.
Toilet Bib Tap
In public places toilet paper and health faucet are not provided, thus in such places bib tap is provided for cleaning purpose. This bib tap is also provided at the same height as that of health faucet of 18 inches above floor level.
Flush Cistern
Flushing cistern is provided at a height so that the appropriate pressure of water is made to flush the waste out into the drainage line. Flush cistern is provided at a standard height of 3 ft above the floor level.
If window or any other hindrances comes then this height can be adjusted accordingly. But it should be kept at a height so that proper flow of water is made possible.
Angle cock for flush tank is provided at a height of 24 inches.
In buildings, where 24 hour water supply is there flush valve are installed. Flush valve carry water at high pressure necessary for flushing. Flush valve is provided at a height of 40 inches from floor level.
Height Of Urinal And Its Accessories
Urinal is generally provided in public places and rarely in residential houses. But if provided it is generally raised above the floor level and platform is constructed. The height mentioned above is from the platform of urinals.
Height of Urinal front part – 24 inches
Urinal flushing sensor height – 51 inches
Height of flushing cistern for urinal – 78 inches
Waste pipe connection to urinal – 14 inches
Top of Urinal partitions – 60 inches
Center to center distance between urinal partition – 24 inches
Thus standard urinal height from floor level is 2 feet or 24 inches to 28 inches.
Miscellaneous Bathroom Fixtures and its height
Standard Bathroom Lighting Fixtures
Lighting fixtures should be kept at a minimum distance of 3 feet from the bathing perimeter. Hanging lights should be fixed at a height of 8 feet or on the ceiling of bathroom.
Electrical Switches In Bathroom
To be safe from electrical shocks it is important to keep electrical switches away from water pipe lines. Minimum of 5 feet distance is necessary from nearest water source for safety purpose.
Bathroom Exhaust Fan
Exhaust fan of bathroom should be provided at a height of 6 feet or 1.8 meter from flooring of bathroom.
Standard height of bathroom window
Generally bathroom window size is either 600 mm X 1050 mm or 450 mm X 1050 mm. Height of bathroom window from floor level varies from 2.5 ft to 4 ft.
Hope you have find this detailed article on standard height of plumbing fixtures and bathroom fittings useful and if so please share this with your friends or any one who will get benefited from it. Follow us on other social media whose link is given on this website.
Bathroom Door Size
Width of bathroom door should be 30 inches. But if there is constraint it can vary from 26 inches to 32 inches. Bathroom door should swing open into the bathroom and never outside the bathroom. Door should also be selected keeping in mind that it should not hit commode of toilet if any.